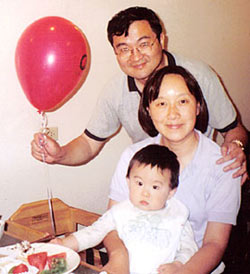 Sowers Chinese Connection
Luke Zhang, our Chinese Ministry Director, has been blessed with many opportunities to work with Chinese both inside and outside of China. This year he has gone to China twice and he has one more trip coming in the fall. God has specially called him to minister to the college students, intellectuals, and young professionals in cities as well as to serve in rural house churches. His fall trip will be sharing gospel with this first group in a northern city during their national holidays. In addition to work inside China, God has also created opportunities for him to serve the overseas Chinese. In summer, Luke was in Paris to lead a retreat for labor class Chinese there. In winter, Luke will be in Germany to speak in evangelistic meetings to students, scholars, and professionals. He is also invited in the end of this year to work with local churches in San Paulo, Brazil.
Besides these overseas' ministries, Luke is also deeply involved in Chinese churches in America, speaking and mobilizing in missions and evangelism.
Not only God has blessed him to be partner with Him to bring back lost souls to His kingdom, but also He has blessed Luke with a healthy and happy son, Joseph, who is now 10 months old. He is a king size baby now almost weights 30 pounds. Besides his size, his other distinctive feature is his smile. He smiles often to any one who greets him. So, Luke's wife, Jenny, must have done a terrific job in raising him. She is a great helper to Luke, taking care of ministry while Luke is gone abroad. In the coming year, she also joins in the Community Bible Study and Mothers of Preschoolers. Her life will be greatly enriched with these fellowships.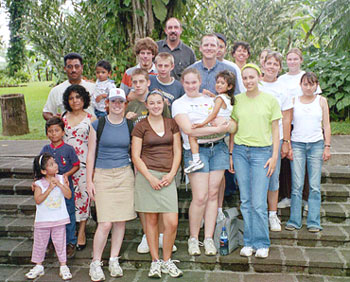 Hot & Sweltering in the name of Jesus
Mazatenango, Guatemala. After many months of preparation for this mission, the 2004 team ministered to over 1100 children in 10 days in 5 cities. Merging a team of 10 from Bethany Covenant Church in New Hampshire and 6 from Rolling Hills covenant church in Los Angeles, we all felt the after effects of vacation bible school and ministry which left us definitely ready for debrief. Despite hot and humid days mixed with quick fleeting rains that brought tender relief, the team advanced the kingdom of God by giving the gospel to all those in attendance, and some making first time decisions for Christ.
Sowers' missionaries, Jairo Soberanis and Javier Celis were key contacts to making this mission a success. "This, by far, has been the best mission yet," stated Jairo as the team ministered non stop with activities designed to proclaim the Gospel to children. It's always a joyful experience when I go to this wonderful country not to mention the people and the culture is why I keep coming back year after year.
-Troy Jones
Sowers International Mission Project International English Club Yala, South Thailand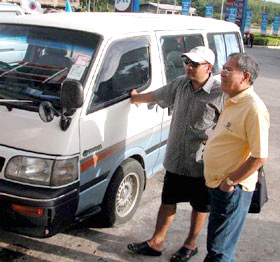 It is more than a year since a staff of four and one volunteer organized the English Club. Under the leadership of Roslyn and Phylla Sipat, the team has been building relationships of confidence, trust, and friendship throughout the community. God has blessed the labor of love, work of faith, and patience of hope as the club is drawing many students from different schools to various professional levels. The majority of the students are Buddhists and Muslims. If you are in the club, you can easily sense the spirit of togetherness and friendship.
One of the summer mission teams taught English in different schools. Many of the students of the short-term missionaries are Buddhists and Muslims. In spite of the heat and humidity, the team members worked with the students at the English Club tirelessly. This team also ministered at a local orphanage.
Since the day the English Club was formed, the monthly budget for the salaries of the workers and operating costs of club had not been formalized. The club was formed in faith that God would provide. And He did! As of today, God provided all that was needed for His work in South Thailand. In this summer trip, the staff shared their need of a service vehicle. Knowing God's faithfulness, Romeo told the team to claim God's promise in Jeremiah 33:3, "Call unto me and I will answer thee and will show thee great and mighty things which thou knowest not." God's answer is timely as one of the members of the summer team, Rosa Alvarez, felt being led by the Holy Spirit, donated $10,000.00 to purchase the needed vehicle. She also donated an additional $1,100.00 to support the salary of the staff.
Missionary Profile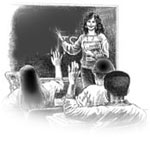 Lia Marie Salazar Casuga. She is one of the missionaries of Sowers International that is being prepared to be sent to Yala, South Thailand to minister among the Buddhists and Muslims through the International English Club. Lia Marie is a gifted teacher, leader and communicator, whose warm personality and vibrant Christian life draws others to herself and eventually to her Lord. Lia Marie received her Bachelor of Science degree in Marine Biologylast April 2003 from Mindanao State University. Prior to her graduation, Lia has been actively involved in short term local mission work both in Iligan City and Digos City. Lia speaks English, Tagalog & Cebuano.
Lia Marie came to know the Lord when she was only 10 years old. Ever since her conversion, she has been faithfully involved in the evangelism and teaching ministries of her local church. She is also an active member and officer of her youth group. Reaching out to the lost has been the desire of her heart. After a year, the Lord presented an opening for her to work among the Buddhists and Muslims in South Thailand. Lia Marie is grateful for this opportunity to join the team in Yala and is equally grateful for your partnership in prayer and financial gifts.

Sumner Teams!

Latin America:

Belo Horizonte, Brazil -June 2005 Orphange Ministry
Medellin, Colombia -July 29-Aug 12, 2005 Street Children
Guatemala -July 2005 Orphange ministry

Asia:

Mainland China -June,October 2005
Mainland China -June 24-July 6, 2005 English Teaching
China/Thailand - May 2005 Orphanage/English Teaching
Thailand -July 22-Aug 6, 2005 - June 23-July 15, 2005
Taiwan -July 7-Aug 7, 2005 English Teaching

Contact Us


Sowers International
26347 Governor Ave
Harbor City, Ca. 90710

Tel: (310)325-0950
Email:Gwynn@sower.org
Troyj@sower.org
World Wide Web: www.sower.org

Send donations to:
Sowers International
P.O. Box 2260 Orange, Ca. 92859
Due to the sensitive nature of our work in these difficult places, many names and details have been omitted. Also for security purposes, please do not copy or publish any part of this without speaking with us first.