God continues to work mightly even after the tsunami disaster
by Roslen Sipat, Sowers Staff, Krabi, Thailand

Right after the tsunami, Sowers International immediately responded to the needs of the victims through the help of God's people with a great heart for the lost. After giving out food and water, fishing nets and supplies to the people in Kho Lanta, God showed us a great opportun- ity to reach out to the lost in Krabi City. In our 4 months here in Krabi, we saw how the Lord works. Last May a short-term team from Florida came and taught the kids in Kiamngam Village. They conducted VBS clas- ses for 5 days and taught about God's Creation. In June, a team from California came and continued the VBS classes for the kids. The team taught about the "Fall of Man". A third team came in July and they continued the VBS in Kiamngam village & Kho Lanta. The team followed up the lesson about God's love and in the last day Sana, our interpreter, emphasized the message of Salvation to the kids and led them to pray the sinner's prayer. By God's grace Pastor Sakda, a local pastor, said that through the efforts and love of those teams, 20 kids and 5 adults now come regularly to the church in Kianmgam and 10 Intermediates attend the Sunday school at the newly opened Christian fellowship in Krabi.
Well, now that the teams are gone, what will be next? We see a great need to continue the ministry with the kids in Kho Lanta, Kiamngam Village, and in the City being aware as well that we will not only be ministering to the kids but also to their parents. Our intention is to continue the work here even if no more teams visit this year. We prayed to seek God's direc- tion and he has led us to teach Conversational English at the English Club in Krabi Monday through Thursday, then teach the kids in Kho Lanta every Saturday morning. On Sunday morning, we will continue to teach in Kiamngam village and in the afternoon in Krabi proper (Santisuk Church). We really thank God for giving us this opportun- ity to serve Him.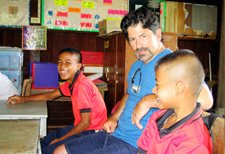 Dave with kids from Koh Lanta.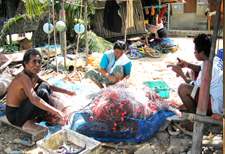 Local fisherman mending their nets.